Specifications
ice cream kiosk juice bar kisok,yogurt kiosk design
-plywood,stainless steel
-ODM*OEM
-new style
-approved CE*ISO
3*3m frozen yogurt kiosk design,frozen yogurt kiosk, yogurt kiosk design
1. Product photos: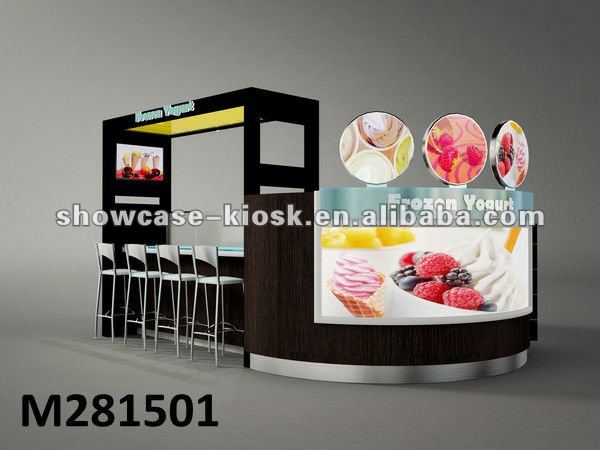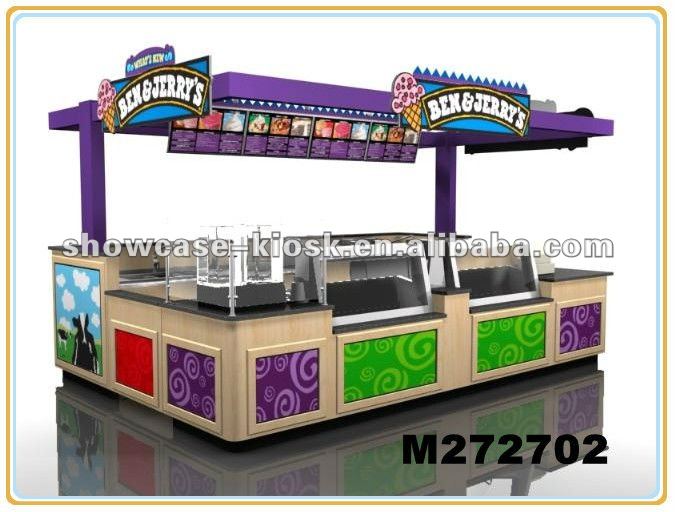 2.specification:
| | |
| --- | --- |
| name | 3*3m frozen yogurt kiosk design,frozen yogurt kiosk, yogurt kiosk design |
| classification | Plywood frame for cabinet |
| Body construction | Surface by Formica laminate,fire-resisted laminate access to mall's request. Tempered glass wall, storage cabinet, sink with tap |
| Working space | 2-3 people |
| Food machine station | We will leave place for your prep table, freezer, other food machine. Send us your all machines size, we will arrange the machine station in cabinet. |
| Water cycle system | Single sink/ double sink with tap depend to your requested |
| Our service | Food kiosk design & food kiosk manufacturer |
3. Details of yogurt kiosk:
1.The body of kiosk is plywood, the surface is fireproof plate(three brand for your choos wilsonart, Diamond, MG) .Logo is acrylic crystal word with LED flexi-stri which make your logo lighted.
2.Water systerm: Inside the kiosk 2-3 sinks will be install, under the sink, there are 2 tanks, one is for clear water other is for waster water, a water pipe connect the sink and tank form a circulating water system.
3.Electric systerm:several sockets with electric wire in the kiosk, when you get the kiosk, you only connect the total electricity box.
4.Inside the kiosk, there are drawers and storages , also you can put your machine in sach as refrigerator and so on.
4. Questions of yogurt kiosk:
Answer:The capacity of our factory is 500or more pieces of a month.
Q2 Are you factory, where is it, is it far away?
Answer:we're manufacturer, and we have
factory in our company. Welcome to visit our factory.
Q3 How big is your factory and how long has it been established?
Answer: Our factory has established in 2004.Our factory is 15000 square meters and our showroom is 300 square meters.
Q4 What are your cooperative partner and your main market?
Answer: Our partners are America, Australia, Canada,
Germany, England, India,our main market are Europe .America.Australia etc.
5. About our company:
1st, Shenzhen Unique Furniture Company has many experience ,specially in designing ,creating ,producing and so on.
2nd,Our company have professional designer,advances producting technology and powerful sales network.
3rd,All our products are not only low price but also high quality.
4th All our customers are located all over the world.
6.Our material:
1.plywood panel thickness: 3mm,5mm,9mm,12mm,15mm,18mm;
2.Fire -Proof panel: we usually use Formica, Wilsonart, MG . All kinds of colors for your choice.
3.Tempered/laminated glass:5mm,10mm,15mm,our we can customized for you. We also use hot bending glass.
4.LED lighting:1w~50w,90v~240v,lamp life are ≥30000 hours;
white lighting/warm lighting/blue lighting;we can have the voltage according to your national standards;
5.acrylic:8mm thickness,transparent/milk white or any other colors;
6.Man made stone: high quality corian.